Description: (from press release)
Where were you on 9/11? That question has become part of the fabric of our lives as Americans. On that bright, sunny day, none of us had any idea what was in store and how it would change our lives. Depending on what part of the country you lived in, you may not have known anything was going on until several hours after the first plane struck. You may not have heard the news until you got to work, turned on your car radio, or received a call from a loved one asking if you had seen or heard the news. Ashes Ashes the Twins Fall Down is a look at the events of 9/11 from personal and informational perspectives. Author, Pauline Hawkins, who lived in Texas at the time of the attacks, shares her experience of 9/11, and its repercussions for her family, her job, and how she viewed the world. Pauline's story of coping with the news, reframing how she thought about America and the world, and making a conscious decision to become better-informed will resonate with anyone who lived through 9/11. In addition to her personal testimony, Pauline provides a thought-provoking context for the events of 9/11, including political background, social commentary, and reflections on the contributions of everyday heroes. You'll come away from this book both enlightened and comforted by Pauline's honesty and common sense, as well as her heartfelt appreciation of those who sacrificed for our country, and those who continue to work toward healing and rebuilding.
Review:

As an American, I will never forget the life-altering events of 9/11/2001. I was thirteen, just starting seventh grade, and the day seemed like any other - Algebra followed by ILA, Reading, Lunch, etc... - but word quickly spread that the day was anything but typical. After 9:45am, the teachers were glued to their computer screens, shock and utter disbelief on their faces. They wouldn't tell us what was happening, not wanting to start mass panic, but scared parents were already beginning to flood the school's front office. Students were told to stay seated and quiet, locked in the classrooms, sparking rumors about gunmen, bomb threats, and possible power-plant meltdowns, but no amount of twisted imagination could have prepared any of us for the terrible truth - America was under attack, and anything was a potential terrorist target. I can honestly say that this was one of the scariest moments of my life, and a total wake-up call. The safety that I had felt my whole life evaporated into the fear of the unknown; innocent people were dying because they went to work. I reasoned that no one was safe, and I wasn't the only one. These are a part of my personal 9/11 memories, but everyone has their own story, and that is why Pauline Hawkins decided to write Ashes Ashes the Twins Fall Down. The mere mention of the Twin Towers or 9/11 triggers most people's memories of where they were, and what they were doing when they heard about the attack. The focus of this book is to show how the attack affected all Americans, not just those in New York, or those who lost loved ones, but the country as a whole. The book is well-researched, easy-to-read-and-understand, and very emotional. Reading each story made me remember details about my own experience, and I was impressed by the sections on The Patriot Act, Osama Bin Laden, and the losses we, (America and the world), suffered. There was a lot that I didn't know - some more unsettling than I would have thought - but I am glad Hawkins decided to delve into it. Well-written and poignant, Ashes Ashes the Twins Fall Down, takes readers back to 9/11/2001, and shows them why America will never forget. Highly recommended!


*** I received this book from the author in exchange for an honest and unbiased review.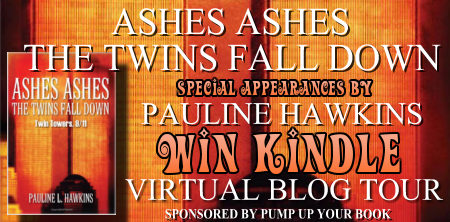 Guestpost:
What inspired you to become a writer? Describe your journey.

I think I've always been a writer. I've always had stories bouncing around inside my head and most anyone who knows me will tell you that I have an over-active imagination. As an Instructional Designer I always loved writing analogies and just think that all goes hand in hand with be a writer. Also I don't know why but I find it much easy to share my thoughts and emotions in writing then verbally. I'm not sure if it's the anonymity that allows me to share what I'm thinking and feeling or what it really is. Maybe it's the fact that writing comes with spell check and grammar check. LOL

Writing also helps me arrange your thoughts and make more sense out of what I want to say. I can't tell you how many times I've written a few pages or even a chapter and then decided I wanted to head a different direction and scrap them and start over. With all of my Instructional Design training I'm also very in tune with writing for your audience and I'm sure that has a lot to do with my decision to sometimes head a different direction. As much as every writer would like to we can't write to everyone out there we have to decide on a basic audience. But as enjoyable as writing is it is still work.

All writers, or authors, get writer's block. We all find ourselves not in the mood to write when we need to be writing to meet a deadline or whatever. Writers are their own worst critics. I'm been frustrated before with a chapter and about ready to trash it but when I ask a neutral party to read it they just love it. I don't know I guess we just expect the perfection from ourselves and we won't settle for anything less. You also sometimes find yourself being discouraged by family and friends when they tell you that your writing is a "nice" hobby or that your book is "nice" but it's no best seller. Ouch! We all hope to write the next best seller but we realize that the odds are against us but we don't need our family and friends reminding us of it.
About the Author:



Pauline L. Hawkins was born in Munson Army Hospital at Fort Leavenworth, Kansas on Easter Sunday. Pauline has been in the health insurance industry for almost thirty years, working her way up from the mailroom to corporate management and claims payment. In 2002, Pauline received her Instructional Design certification, which allows her to create instructor-led and learner-paced training curricula, along with computer-based learning activities and website creation. Pauline has enjoyed writing since she was in high school, and has decided to start sharing her stories. Ashes Ashes the Twins Fall Down is her debut book.

You can visit Pauline L. Hawkins' website at http://paulinelhawkins.com.

Follow Pauline at Twitter at www.twitter.com/paulinehawkins3.

Pick up your paperback copy of Ashes Ashes the Twins Fall Down at Amazon: http://www.amazon.com/dp/0578105306

Download your e-copy of Ashes Ashes the Twins Fall Down in the Amazon Kindle Store: http://www.amazon.com/Ashes-Twins-Fall-Down-ebook/dp/B008CPXMWS/ref=tmm_kin_title_0?ie=UTF8&m=AG56TWVU5XWC2

Purchase your copy of Ashes Ashes the Twins Fall Down at Barnes & Noble: http://www.barnesandnoble.com/w/ashes-ashes-the-twins-fall-down-pauline-l-hawkins/1111610106?ean=9780578105307&r=1&

Order your copy of Ashes Ashes the Twins Fall Down directly from the publisher: http://www.outskirtspress.com/bookstore/9780578105307.html
Book Trailer