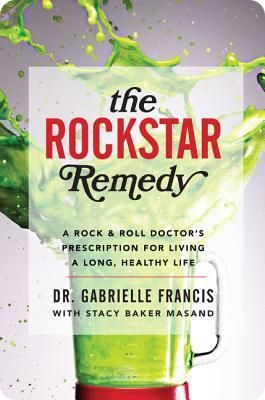 Description

: (book-jacket)

Known as the "Rock n' Roll Doctor" to some of the most famous bands in the world, Dr. Gabrielle Francis shares her unique holistic prescription to achieving health and balance—even when you don't live like a saint!

As a Holistic Doctor to the music industry's elite, Dr. Francis has helped rock stars repair, recover, and refuel from the demanding schedules and occasional overindulgences that come along with the rock star lifestyle. Being overscheduled, sleep-deprived, overeating, drinking and managing physical and mental stressors aren't lifestyle habits unique to the music industry; they are the same challenges faced by all of us, every day.

In The Rockstar Remedy, Dr. Francis shares her unique strategies designed to be incorporated into your hectic lifestyle. Her programs are customized to meet you where you are at, whether an experienced health enthusiast or a beginner. Completing the 21 day detox will give you a renewed sense of energy and enthusiasm for life, while looking and feeling your personal best. She explains how health is not a destination, but exists on a spectrum, and the simple act of making better choices every day—even if they're not the best choices—helps us achieve balance in both mind and body. With tips for improving energy levels, easy food guidelines and a simple no-starvation detox, Dr. Francis offers a simple, effective plan for staying healthy and happy amid the chaos of our daily lives. Her popular "Harm Reduction Techniques" and "90/10 Rule" make it easy to celebrate life with occasional indulgences while maintaining good health. This is not a temporary fix; this program brings long-lasting, life-changing results.

Now you can reach for the stars too!