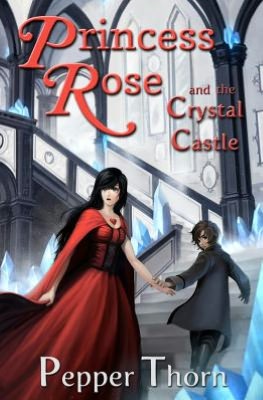 Description:
When Princess Rose was born, Great Aunt Bathilda accidentally spoke the words that would change her life forever, "Everyone who meets Rose will just love her..." And from that moment on, no man, woman, or child could look upon her without falling in love with her. Not the worst thing to be cursed with right? - Until she reaches marrying age and every royal suitor becomes infatuated with her - not for her looks or her personality, but because of the curse. That is, all suitors except Prince Raven. He is mysterious, handsome, and has a genuine interest in Rose - but his intentions aren't what they seem; especially after he takes Rose away from her kingdom and to the Crystal Castle - a place with a past so dark that it threatens to steal her soul. Will Rose find a way to escape? Or will Prince Raven Make sure she never leaves?
Review:
Being an anime/manga fan, I couldn't help but love the cover art! Such a beautiful illustration and an exciting glimpse into the kingdom of the Crystal Castle - I had to read it as soon as it came in the mail! As a child, I loved reading fairy-tales with my parents, (both the happily- and the creepily-ever-after versions), so I was excited to see into which category Pepper Thorn's story fell. I am happy to say it walked the fine line between both, keeping me entertained and ready for more. The story is great! Full of fantasy, action, mystery, and a writing style suitable for both kids and adults. I found the story and characters creative and fun to read. I can definitely see kids falling under the Princess's spell - especially if it becomes animated! I would love to see the characters come to life on screen! Highly recommended for kids and adults ready for a new fairy-tale classic. I really hope there's a sequel!
Rating: Clean Getaway (5/5)
*** I received this book from the author (Typing Cat Press) in exchange for an honest and unbiased review.