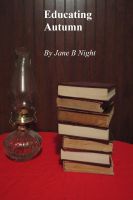 Description:
Autumn Claire is not like other girls, she can secretly read in a society where education is restricted to males only; her love of books and her attitude towards marriage often getting her into trouble. But as soon as a stranger, Orion Louis, discovers her secret, he knows that she is the woman he is meant to be with - even if she has no desire to be wed, among other things.
Review:
This book was definitely not what I was expecting, but overall, I did enjoy reading it! Lately, any book I receive labeled "erotica" is a total let-down - either too blatantly pornographic with no real emotional substance, or so scantily risque that it can barely be considered part of the genre.
Educating Autumn
lies somewhere near the nethermost point of the "erotica spectrum", a lighter, yet progressively passionate reading experience. I liked that Jane B. Night gave the reader time to get to know Autumn, Orion, and their families before jumping into their eventual relationship. I enjoy stories with a build-up, and although this one took some time to get up to speed, I appreciated the more realistic pacing of events. Orion and Autumn were both easy characters to relate to, their growing love for one another was gradual and was not forced. Honestly, their was more longing and restrained passion than there was hands-on intimacy, but it was well worth the wait. The sexual scenes were tastefully written and quite satisfying. However, I was not too keen on some of the repetitiveness of the descriptions and dialogue in the first couple of chapters. I also disliked the verbal abuse between a few of the characters, and felt that it was unnecessary. Besides my couple gripes, I enjoyed
Educating Autumn
overall, and would love to read more about Autumn and Orion, (or their dystopian world), in future books.
Rating: Bounty's Out (3.5/5)
*** I received this book from the author in exchange for an honest and unbiased review.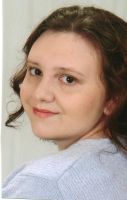 About the Author: (from http://authorjanebnight.webs.com/)
I am an avid reader, scrapbooker, writer, lecturer and working mother of twins.
Yes, I am very busy.

I started writing when I was in second grade. I was part of the young authors program in grade-school. When I was older I joined 4-H and had creative writing as a project. I won at county level when I was 13.

I have a degree in Health Information Management and work at a local hospital. One of the biggest perks of my job is that I am allowed to listen to audiobooks at work.

I live in central Ohio with my two children and my best friend since high-school.