Does God exist? Can we prove it?... The God Test. A Future Experiment to Prove or Disprove God Exists by Robert & Jamie Bernhard seeks to prove God's existence from a neuroscientific standpoint. Quite an intriguing concept.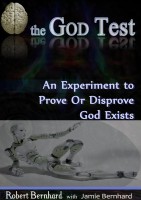 About the Book:
The God test is the first ever scientific experiment offering what thoughtful people everywhere have reasonably dismissed as impossible, as a violation of common sense, pure logic, and the concept of the scientific method: that is, an experiment that would provide biologic evidence either supporting the Judeo-Christian concept of God or indicating that God may or may not exist – the test results could be ambiguous in this regard -- but He/She is irrelevant in our individual creation. This is neuroscience, not spiritualism or intelligent design.
The experiment does not address the broad philosophical concept of God, but targets specific Judeo-Christian definitions of God and the human soul given in standard theological sources..Briefly, the test is targeted only to determine whether a unique feature of our consciousness, the subjective first-person experience, or conscious feeling of the self, can in principle ever be described or explained by natural laws. This is a natural setting for an amicable tug of war between Christians and atheists. Christians easily may see this
feature as evidence that only God could have created it. Atheists will insist that it can be explained some day by evolution, and by earthly chemistry and physics.
Robert Bernhard's 40-year+ career in the sciences includes working at Harvard's Computational Laboratory, MIT's Instrumentation Lab, The Monrobot Laboratory, the ITT (International Telephone and Telegraph) labs, the Grumman Aircraft Research Department, the Molecular Biology Department at the Albert Einstein College of Medicine in New York, and the Medical Education Division at Excerpta Medica (a division of Elsevier). He has worked as editor at IEEE Spectrum, Nucleonics Weekly, and Drug Therapy, and editor-in-chief at Emergency Medicine magazine. He has published numerous papers in peer-reviewed academic journals, including "Correlation Waves in Brain-Like Structures" (Bulletin of Mathematical Biophysics), "Chemical Homologue of Freud's Model" (Psychoanalytic Quarterly), "A Kinetic Model of Memory" and "Irreversible Thermodynamics in Biology" (Journal of Theoretical Biology), and "Adrenoreceptors and the Anxiolytic Effects of Risperidone (The AMA Journal of Neuroscience and Neuropsychiatry). He received the 1980 Communicator of the Year Award from the Institute of Electrical and Electronics Engineers, published two novels, a short computer networking textbook, and played Crimson Tide football (both ways) from 1950–1952.
Bernhard has lectured on computer emulations of neuron networks in the brain, and quantum physical applications in neuroscience at the University of Pittsburgh School of Medicine; the Johnson Research Foundation of the University of Pennsylvania; Queens College of the
City University of New York; the International Federation of Information Processing Societies (International Federation of Information Processing Societies Congress, Munich, 1964); and the Conference on Engineering in Biology (Chicago). He is listed in American Men of Science (Cattel), and The Bioelectronics Directory (Texas Christian University).
Expected Publication: August 6, 2015
* Content of this spotlight post was provided by the author, publisher, and/or book promotion site and does not reflect the views of the TPP.