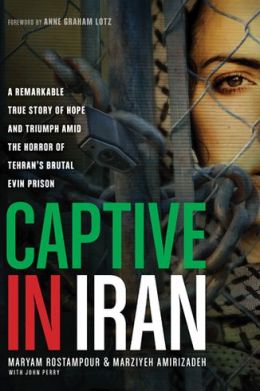 Description:
(from book jacket)
Locked away, but not silenced . . .
Maryam Rostampour and Marziyeh Amirizadeh knew they were putting their lives on the line. Though Islamic laws in Iran forbade them from sharing their Christian beliefs, in three years they'd covertly put New Testaments into the hands of twenty thousand of their countrymen. They'd started two secret house churches, including one for prostitutes―many of them women who had been abandoned by their husbands and had no other way to support themselves and their children. Maryam and Marziyeh had almost been caught many times . . . it seemed like divine intervention when they were not.
But finally―perhaps inevitably―in 2009, the two young women were arrested and held in the notorious Evin Prison in Tehran, a place where inmates are routinely tortured, and executions are swift and sudden. But in the face of chilling interrogations and intimidation, and risking a death sentence, something remarkable happened: Instead of succumbing to fear, they chose to take the radical―and dangerous―step of sharing their faith inside the very walls of the government stronghold that was meant to silence them.
After reading the cover blurb, I was hesitant to read Captive in Iran. The authors' story truly sounded interesting, but the thought of reading another book documenting religious persecution and torture was unsettling. Fortunately, once I began reading, I was surprised by how their story was presented - slow, yet capturing the Iranian culture and way of life. I learned a lot about Iran's people and customs, mulling over the similarities and differences between America and Iran, and thanking God that I had been born in a place where people are not treated as property or punished for their religious beliefs. Their amazing story begins on the day of their arrest, and takes readers through some of the events leading up to their capture, their incarceration, and their eventual release and immigration to the United States. Their story is one I will not soon forget, illustrating the power of faith and belief, although I wish that there had been more details, especially about their pre-incarceration. The only aspect that I did not like was the overall pace. Some sections were slow and repeated events that had previously been discussed. Other than that, I actually really liked their message as a whole and recommend it.
Rating: Bounty's Out (3/5)
*** I received this book from the author/ publisher in exchange for an honest and unbiased review.