Well everyone, its cold and flu season again and Denise N. Fyffe has produced a short, yet informative ebook about mucus - where it comes from, how it works, and how to start feeling better! The ebook was just released on Smashwords and is currently free!!!
Here's the link!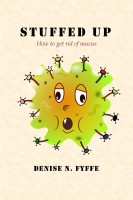 About the Book:
Cold and Flu season usually puts us out, makes us uncomfortable and disrupts our everyday life. As if the coughing and the sneezing wasn't enough, that stuffy, puffy feeling comes along as well. You don't have to endure the suffering. Once you understand the symptoms and how to get rid of it, you can use the remedies to alleviate your congestion.
About the Author:
Denise N. Fyffe, B.Sc., b.1981 in Kingston, Jamaica, since 2002 has worked in various Information Technology positions as a Teacher, Software Implementation Specialist, Social Media Specialist and E-Learning Administrator. Presently she is the IT Programme Coordinator for a Jamaican University. During her career, she has worked for such companies as Infoserv Institute of Technology, Heart Trust NTA, Pearson Education and the University College of the Caribbean. She also works as a freelance writer and works with many local and international clients to produce hundreds of online articles, creative content and website content in addition to eBook materials.
In addition to studying Software Development and Design offered from the Caribbean Institute of Technology, she completed her degree in Career Development and Counselling at the Vocational Training and Development Institute. Presently, she is completing a Post Graduate Diploma in Education. As a child, she attended Harbour View Primary and Camperdown High. Denise holds fast to the philosophy that you should follow your interests as knowledge empowers you and do not set limitations on your potential; therefore she does not believe that you must only study one specific field.
For over a decade Denise has written poetry and successfully authored several volumes of poetry, while maintaining several blogs on the Wordpress platform. Denise believes her true calling in life is to be a writer and all else are bonus gifts that she has the freedom to explore. Her morals are deeply rooted in Christian principles and she lives to be a genuine example of her faith.
Read Denise N. Fyffe's Smashwords Interview
Email:
poetessdefy@gmail.com
Blog:
https://theislandjournal.wordpress.com
https://www.facebook.com/poetessdenisefyffe
https://www.facebook.com/poetessdefy
https://twitter.com/denisenfyffe
http://www.lulu.com/spotlight/Defy
* Content of this spotlight post was provided by the author, publisher, and/or book promotion site and does not reflect the views of the TPP.