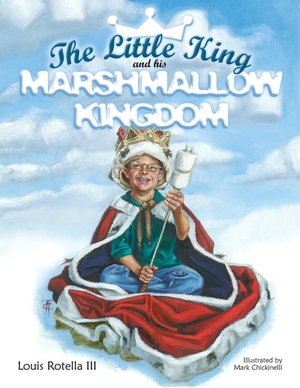 Description:
The Little King and His Marshmallow Kingdom is a wonderful story about a child with Down Syndrome, Louie IV, who loves to use his imagination to rule over the magical Marshmallow Kingdom where it is always sunny and full of marshmallow-filled desserts. But he also loves to do kid stuff like: play games and sports, help his dad with yard work, listen to music- (and make it), get into mischief, and help his friends! Most of all, he loves his family, and likes to show everyone that it is good to be unique and different, even though unique can mean many different things.
Review:
The Little King and His Marshmallow Kingdom is an adorable and encouraging book about embracing our differences and celebrating uniqueness! I really love the story of Louie IV and his imaginative adventures as well as his hobbies! The illustrations, by Mark Chickinelli, are colorful and very life-like, entertaining and stimulating the minds of children and adults alike, especially the one on the cover which my nephew seemed to enjoy, (what child doesn't want to use their imagination to be a king or queen?). I also liked the variation in shades from b&w to the colors of the rainbow; great pencil/ink sketches. The message is universal - celebrating and accepting the unique and different, and Louis Rotella III has done an amazing job with this wonderful children's book. Highly recommended for all children, and the people who read to them.
Rating: Clean Getaway (5/5)
*** I received this book from the author (Bostick Communications) in exchange for an honest and unbiased review.