The Benefit of the Basement
I read somewhere that the best time to write about summer is in the winter. The quote—which I could look up on that thing the kids call the Internet—but I can't because my office, where I do most of my writing, is in the basement and the Wi-Fi signal is pretty weak and while I can get my Google homepage, I can't get to the Internet without a lot of staring at a page that is 5/23rds loaded.
All that to say, is that I'm sort of cut off from being connected down here.
Even the family, if they want to reach me, have to shout from the top of the basement stairs. Plus, they have to wait until there is a break in the music. I still play CDs down here. I know. I'm a dinosaur. And unconnected.
That distance, however slight, gives me space to wonder and day dream and imagine. I have a bookcase down here, filled with books that I never refer to. If I had my druthers (and I'm not sure what a druther is, except that I want some), I would leave the office completely empty, save for a desk, a lamp, a chair, and my 40-year-old Sony stereo that sounds better and warmer than any newfangled electronic music device. I also still play actual vinyl records. I know . . . a dinosaur.
In order to truly see—in my opinion—you have to have solitude and distance.
There is no greater time to feel love than when one is apart from the one you love.
There is no better time to build an imaginary world than when you are removed from the current one.
I love writing in the dark, often still, often chilly, unconnected basement. I am not tempted by the TV, or the computer solitaire game, or even a view. I do have a window down here, but my back is to it and I do not want to fear someone watching me from the outside. (I saw too many scary movies as a kid.)
See . . . I've already started spooking myself out.
Be alone, be cut off—even for a little bit—and let the creativity flow.
What wondrous things are these rooms hidden from view, hidden from the problems of the day. Stay hidden, and write, for then the truth shall come.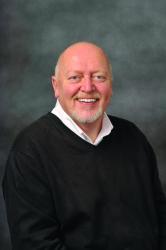 About the Author:

Jim Kraus is a longtime writer and editor who has authored or co-authored more than 20 books, both fiction and nonfiction. His best-selling humor book, Bloopers, Blunders, Jokes, Quips, and Quotes, was published by Tyndale House Publishers, sold more than 40,000 copies and inspired several spin-off books. Jim, and his wife, novelist Terri Kraus, and one son, live in the Chicago area.

Also residing with them is a sweet and gentle miniature schnauzer named Rufus. Coincidently, Rufus is also the name of the dog in Jim's recent book, The Dog That Talked to God. "What a coincidence," Jim said. "What are the odds of that happening?" They also share space with an ill-tempered Siberian cat named Petey. Coincidently, Petey is the name of the cat in Jim's most current book, The Cat That God Sent, by Abingdon Press.

Jim recently was awarded a Master of Writing Arts degree from DePaul University. "Now, I am able to write more better," Jim said. (Yes, that is supposed to be humorous.)
Passionate about writing, Jim loves to create true-to-life characters. "I tend to be the one at the party that is on the edge of things--observing how folks act and react. Plus, I'm not that crazy about people in general--so it works out fine." (Again, it's supposed to be funny.)

Visit his website at www.jimkraus.com.
Connect with Jim!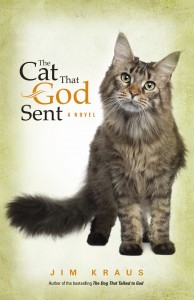 About the Book:

Jake Wilkerson, a disillusioned young pastor who is an expert at hiding his fears, takes on a new assignment in a small, rural church in Coudersport, Pennsylvania. It's a far piece from anywhere and full of curiously odd and eccentric people, including Sally Grainger, a single woman and veterinarian who dismisses all Christians as "those people," and Tassy, a young runaway with a secret.

His first day on the job, however, Jake is adopted by Petey, a cat of unknown origins and breed, but of great perception. Petey believes that he is on a mission from God to redeem Jake and bring him and his quirky friends back to the truth.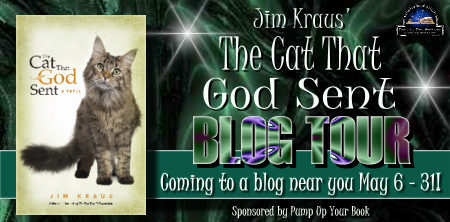 The Cat That God Sent Tour Page:
http://www.pumpupyourbook.com/2013/04/06/pump-up-your-book-presents-the-cat-that-god-sent-virtual-book-publicity-tour/