by O.S. Gill
Many people that I meet seem surprised that I am so into sci-fi and fantasy, having grown up on an island. I don't know, I mean I have no actual figures to back this up, but Barbados must have more sci-fi geeks per capita than anywhere else in the world. It's a small country, very small, only 21 miles long and 14 miles wide. But still, growing up here you seem to be immersed in every aspect of pop culture. I know I was.
The year was 1984, and my Saturdays consisted of waking up and watching as many cartoons as I could. Every Saturday, without fail, no exceptions, it was breakfast cereal and Transformers, and between Optimus Prime and Tony the Tiger, there was nothing more a six year old could possibly need.
Then one Saturday morning, I woke up and saw that my dad had rented some videos from the store to play on our brand new VCR (to the younger generation scratching their heads, that's how we used to watch movies before Netflix or Amazon Prime). There were about three cassettes in all, for the life of me I can't remember what the other two were. But I do remember that one stood out to me, it read "Star Wars: Return of the Jedi". I didn't know what a Star War was, but I thought it sounded awesome, so I popped it in, and thus my life was changed forever.
I was totally blown away. Laser swords, they had freaking laser swords and space ships! I have watched many, many movies since that day, but I don't think I ever recaptured the awe I felt after watching Return of the Jedi for the first time. Lord knows I tried. After that day I watched every sci-fi/fantasy movie I could get my little pre-teen hands on, E.T. The Extra-Terrestrial, Willow, Back to the Future, I was enamored with these wonderful films, in fantastical settings that took me away from my tiny island home for 90 minutes at a time.
I believe, no I know that's what drives me to be a writer, particularly a writer of sci-fi/fantasy. I want to create that same feeling for other kids. If somewhere in the world, some kid reads my book, and falls head over heels in love with the world therein, then I would feel like I've accomplished what I set out to do. I would feel like I finally recreated that feeling. If only for someone else.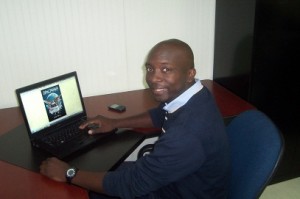 O.S. Gill grew up on the Caribbean island of Barbados. He was educated at The Lodge School, a 300-year-old former British boarding school and the second oldest learning institution on the island. A certified information technology professional, he has worked for The Banks Holdings Limited, a local conglomerate that owns the local brewery (Banks Beer) and Coca-Cola manufacturing plant for fourteen years. A Systems Analyst, he has been positioned in various capacities, primarily dealing with sales and distribution, as well as the sourcing and implementation of new technologies to further business efficiency. He always had a passion for writing and published his first novel, THE KNIGHTS OF GALARIA: THE CRYSTALS OF POWER, in 2012.You can visit his website at www.osgill.com.


For Kaz Silverwynd, graduation from the Galarian Knight Academy begins normally, but an the attempt on the life of Xul Xandu, the newly-appointed head of the Confederation of Nations, pushes Kaz and his team into an epic and dangerous adventure. The action ranges from the floating city of Civitas to the underwater empire of Aequoria to the moon colony of Ourea. Kaz leads his band of knights on a perilous journey to stop a madman from achieving his ultimate goal – the conquest of the world of Galaria. Added to the already volatile mix are the legendary Crystals of Power, a collection of beautiful but deadly jewels that could tip the scales of power toward good or evil.