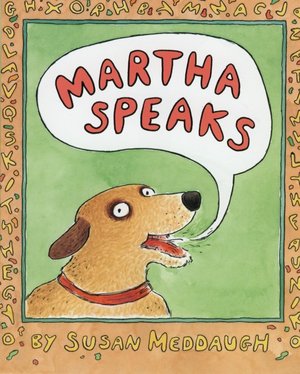 Description:
When Helen feeds alphabet soup to her dog, Martha, the letters go into her brain instead of her tummy! So instead of a "bark" or a "woof", Martha speaks words; but having a talking dog is not what Helen's family expects...
Review:
Martha Speaks
is definitely a classic children's book, its popularity rivaling that of
Clifford the Big Red Dog
and
Thomas the Train
. Children and adults are pulled in by Susan Meddaugh's
creative story-line and adorable water-color illustrations; Martha's world comes to life - especially when listening to the included audio CD. I love the message that the book offers to children - communication is important, but you need to learn how/ where to use it - a great lesson for children of all ages, particularly first and second graders. I know that elementary schools in my area use this book, as well as the rest of the Martha series, and I see how much kids enjoy it, especially my younger nephews.
Martha Speaks
is full of great vocabulary, fun illustrations and narration, and is highly recommended!
Rating: On the Run (4/5)
*** I received this book from the author (Houghton Mifflin Company) in exchange for an honest and unbiased review.