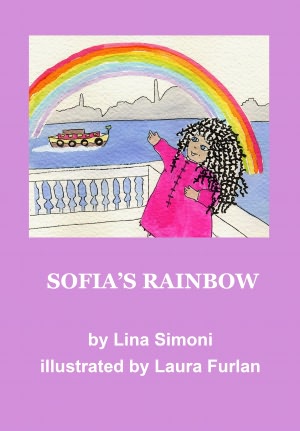 Description:
Sofia is a beautiful, but lonely, little girl who dreams about climbing rainbows in her home city of Istanbul (Turkey), but the stray kitten she befriends, Incir, only wishes to eat figs and hates heights. Although she likes Incir, she wishes he was more like her, and berates him about his fears, until the day she climbs a dissipating rainbow and Incir jumps in to rescue her.
Review:
As always, I love when a children's book has a strong message, and
Sofia's Rainbow
has lessons to teach - Just because someone/something is different, does not mean that they cannot be your friend; sometimes the differences make better friendships. I liked how Sofia and Incir interacted throughout the book, their relationship changing because neither of them wanted the same things. Many children (readers) can relate to this story-line because it is not always easy to embrace people/things/behaviors that are unfamiliar or strange. This is why there are so many children, and adults, who are bullied and mistreated today. No one has taught these individuals that it is the differences that make us who we are, which is why this book is so important for children to read. Lina Simoni's creative and well-written story is full of wonderful cultural references and challenging vocabulary. There are forty-eight pages, each containing one or more of Laura Furlan's beautiful poly-chromatic illustrations. I especially enjoyed the depictions and expressions of Sofia and Incir, and I know that kids will too! A very unique children's book recommended for all ages!
Rating: Clean Getaway (5/5)
*** I received this book from the author (Bostick Communications) in exchange for an honest and unbiased review.