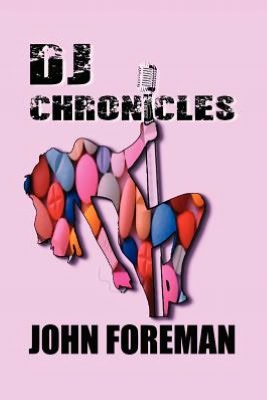 Description:
Johnny B has a charmed life - he is one of the hottest DJ's in LA, works at the most premier strip club in town, hangs with Hollywood's A-listers and gets all the "perks" (ladies, booze, and drugs) that the night life has to offer. But what happens when a perforated bowel leaves Johnny incapable of going back to his old life? When the drugs are out of his system, will he choose to go back to old habits, or start anew?
Review:
After being contacted about this book, I wondered if the content - Hollywood/DJ's/Strip Clubs - would amount to a worthwhile read. I had recently read a couple similarly themed books that were less than enjoyable, more smut than story-line, but I was willing to give
DJ Chronicles
a try. The beginning was abrupt, but the resulting pace was welcomed, the series of events that led Johnny B to the emergency room and beyond were gritty, sometimes comic, and entertaining - a peek into Hollywood's nightlife/club scene. I was surprised how much I enjoyed the characters, particularly Johnny B and his strange relationships with strippers, clientele, big-wigs, and celebrities. I also found his "relationships" with inanimate objects interesting - drugs, alcohol, sex, music - the reader knows where Johnny's overindulgent and destructive habits are leading him, but it is hard to stop reading once you've started.
DJ Chronicles
felt like something I should dislike, but I had the opposite reaction; its illicit nature draws readers into a world that most people never see or contemplate. Popularity, fame and money are all things people dream of - the "Hollywood" lifestyle, but what happens when it goes too far? I definitely got a taste of the answer from John Foreman's novel, and it certainly does not paint a pretty picture - although I could not help but read on. This would make a great prime-time TV show, albeit there is strong language, drug use and sexual situations, but there are cable channels for that. My only qualm is that some of the action/dialogue seems forced in certain sections of the book, however, I liked the realistic story-line. I did not enjoy the ending, but sometimes the unexpected makes readers think - always a good thing, (No Spoilers!). I look forward to future books by this author!
Rating: Bounty's Out (3.5/5)
*** I received this book from the author in exchange for an honest and unbiased review.