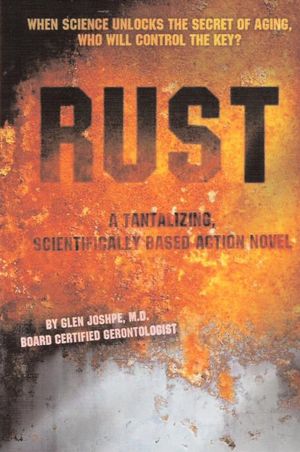 Description: (GoodReads)
When the unorthodox, free-thinking, Cornell University scientist, Alex Stein comes across a life altering finding in Africa, a series of action-packed adventures crossing continental divides are set into motion. As the very essence of life's mysteries become unraveled, the CIA, the Russian mafia, and Stein himself fight to retain control.
Review:
As of late, I have become a huge fan of medical-based fiction, particularly thrillers - think Robin Cook, Kathy Reichs and Tess Gerritson, so when I read the blurb for
RUST
, I knew it was the book for me! Unfortunately, after 132 pages, I still could not attest to the cover's promise of, "tantalizing, scientifically-based action". There was more than enough scientific and medical jargon, (almost to the point of extreme), but if there was action, I really did not witness it. There are a couple sections that warrant an increase in pulse, however, most of the novel is dialogue, meetings, investigations, and a mild sense of dread. The tagline
should
read 'scientifically-based novel'; it had the potential for thrills, but with so much science and so little climax, I felt that it started to drone on around page 88. I am a scientist, so I know a lot of terminology and complex medical processes, but even my background in medicine and anatomy did not prepare me for some of the lingo used in this novel; the good news is that I got some use out of my kindle dictionary app. Overall, I enjoyed the characters and diagrams, and most of the plot-line was satisfactory, nevertheless, the story seemed unrealistic at times. Glen Joshpe's writing style is quite engaging, but if he wants a wider audience he will need to pull back some of the shoptalk and add in some combat. Not everyone is a gerontologist or other medical professional, which makes
RUST
's intended audience harder to pinpoint. Personally, I recommend it to those who have a background in the sciences, or readers who are "prepared to understand aging like never before." (
RUST
p-iii)
Rating: DNR (2.5/5)
*** I received this book from the author in exchange for an honest and unbiased review.