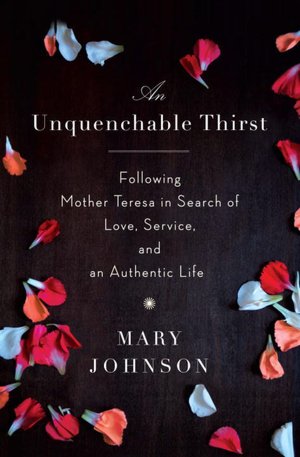 Description:
An Unquenchable Thirst is the autobiography of Mary Johnson, a woman in search of God, love, and her true-self under the influence of Mother Theresa's teachings.
Review:
I have to admit, I wasn't expecting this book to affect me so much, but Mary's story was really moving and genuine. The level of detail was astonishing, Mary's feelings and surroundings adding to an already intense journey for human understanding; her hopes, fears, and secrets permeating every page. I have never really appreciated the idea of convents or nuns, but I completely understand devotion, and when I consider the term, Mother Teresa does come to mind. I knew some basic information about her life, but had not considered her earthly contributions as of late, however,
An Unquenchable Thirst
sketched a life portrait that I had not expected. Not only does Mary Johnson recount Mother Teresa's graces, but also her flaws and failures - humanizing a woman who is so often only described as saintly. I love when a book, especially one detailing such a prominent figure, makes history relatable and enjoyable. No one wants to read about absolute perfection - an attribute the Earth knows not. Overall, I rather enjoyed Mary's story, minus a few grammatical/punctuation errors, and I am glad that her life ended up the way it did, (no spoilers). Recommended for open-minded readers who would like to know more about Mother Teresa and her followers... or those who want a look into the little-known and misunderstood lives of nuns/missionaries and those who choose to devote themselves to GOD.
Rating: On the Run (4/5)
*** I received this book from the author in exchange for an honest and unbiased review.