Description:
Final Approach

is the true story of Lyle Prouse - the first commercial airline pilot caught, arrested, and imprisoned for flying while intoxicated - and his life-long battle with alcoholism.
Review:
I am too young to remember Northwest Airlines Flight 650 and the controversy that surrounded it, but as soon as I showed my parents the book, they immediately recalled the night in 1990 when they saw it on the news. They used words like "shocking", "irresponsible", "unbelievable", "crazy", and "life-altering"; and after reading Lyle Prouse's story, I can definitely attest to those descriptions, especially the last one. Looking at the cover, you would think that this book centered around the fateful flight, which it does in a sense, but it also tells the genuinely awe-inspiring story of one man's early-life, career, life-threatening mistakes, prices paid, and the remarkable journey back to redemption - and beyond. This memoir is unexpected, emotionally riveting, and chock-full of hope for those affected by alcoholism or addiction. After falling from grace, and suffering through unimaginable repercussions, Lyle managed to beat the odds, (with the help of his ever-loyal wife), conquering his addiction, starting over, and rising through the ranks to, again, become a pilot; followed by a Presidential pardon. It is simply amazing to imagine what Lyle went though because of his shortcomings, having the strength and wherewithal to redeem himself, and to write about his battle in such an honest and articulate manner. I will definitely be recommending
Final Approach
as a must read for anyone who finds themselves lost and is looking for the light. I really respect Lyle Prouse for the truly eye-opening and inspiring journey he takes readers on with his "never give up" mentality; his words may change someones life for the better.
Rating: On the Run (4.5/5)
*** I received this book from the author (Pump Up Your Book) in exchange for an honest and unbiased review.
About the Author:

Lyle Prouse was born in Wichita, Kansas in 1938. He is part Comanche and grew up in an alcoholic home in a World War II housing project. He was active in his Native American community. After graduating from High School in Wichita, Lyle joined the Marines as a private but made the rare transition from enlisted to officer grade and ultimately Captain, a jet fighter pilot flying combat missions in Vietnam.

After his discharge from the Corps, Lyle became an airline captain for Northwest Airlines and flew for nearly 22 years before the same alcoholism that killed his parents almost destroyed his life. He was the first commercial pilot ever arrested and sent to prison for flying drunk.

The blistering media coverage was relentless as he was fired, stripped of all flying certificates, tried, convicted, and sent to Federal prison for sixteen months. The trial judge added sanctions on top of the conviction to guarantee he would never fly again. In spite of all the seemingly impossible obstacles, Lyle got sober, experienced many breathtaking miracles, returned to Northwest Airlines and retired as a 747 captain. In January of 2001 he received a full Presidential pardon from then President Bill Clinton.

Today, Lyle is a husband, father, and grandfather. He has been sober over twenty-one years and has devoted his life to helping others overcome alcoholism. He is still flying and has participated with all the major airlines in their ongoing alcohol programs. He remains active in Native American sobriety movements.

His latest book is Final Approach: Northwest Airline Flight 650 Tragedy and Triumph.

You can visit his website at www.lyleprouse.com.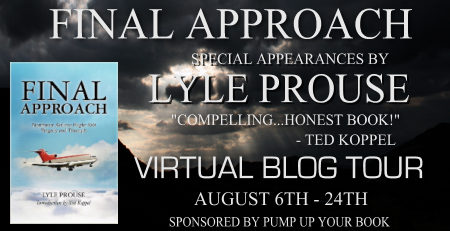 Virtual Book Publicity Tour Schedule
Monday, August 6
Tuesday, August 7
Wednesday, August 8
Thursday, August 9
Friday, August 10
Monday, August 13
Tuesday, August 14
Wednesday, August 15
Thursday, August 16
Friday, August 17
Monday, August 20
Tuesday, August 21
Wednesday, August 22
Thursday, August 23
Friday, August 24