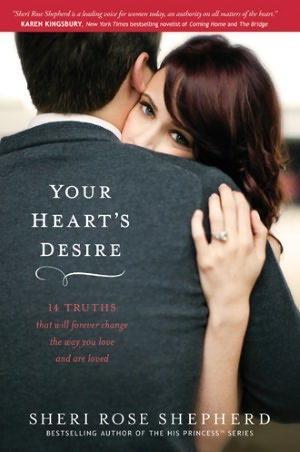 "Hope and healing for every woman who has ever loved a man..."
Description: (from GoodReads)
Bestselling author and Bible life coach Sheri Rose Shepherd shares with total transparencyand transforming truth how to attain your heart's desires when it comes to love. This book is written -
For the married woman who desires more for her marriage

For the single woman who desires a godly man to love her

For the divorced woman who desires and deserves a second chance to find love again
Each chapter has life-challenging love stories, love coaching, powerful prayers, inspiring scriptural love letters, and a

Transforming Truth

. If you're ready for a refreshing perspective on love, men, and marriage, this book is for you!
Review:
I frequently receive book requests that fall into the Love/Romance/Dating genres, and more times than not, the books are written in the "cookie-cutter advice column" style, holding little more than secondhand information. For this reason, I am very selective when it comes to these types, usually only taking on one per month - the more original and out-of-the-box - the better. Your Heart's Desire sounded very intriguing, especially since a close friend of mine had been going through a rough patch in her relationship and wanted help getting through it. We were both surprised how easy it was to read, and how down-to-earth and genuine Sheri Rose Shepherd's writing style was. She writes as if she is a close friend, sharing stories of her loves and losses with the people she trusts. This made the book, and her messages, all the more powerful and inspirational, allowing readers to really reflect on their own relationships, (or in some cases, a lack-thereof). The chapters are of an appropriate length, plenty of places to bookmark and take breaks, and the scripture throughout links the reader back to God, (particularly the letters "from" God). She shows women how to love their men even when they feel like they don't deserve it - just like God does; to a point, she's right. She also says that "...if our men have given us every reason to give up on our relationships with them, we must not give up our God-appointed position of influence in their lives." Her beliefs resonate with me, but I do draw the line at manipulative/abusive relationships; there are parameters. Husbands also promised to "love, honor and cherish" their wives, so shouldn't the same rules apply to them? That was the only real problem I had with the book besides a few odds-and-ends. I also liked the idea of the QR codes that took me to videos where the author spoke about related topics. The interactive aspect was enjoyable as well. Recommended for single, dating, married, and "mothering" women who want to enrich their relationships with their significant others and with God.
*** I received this book from the author (Blogging for Books - Tyndale) in exchange for an honest and unbiased review.