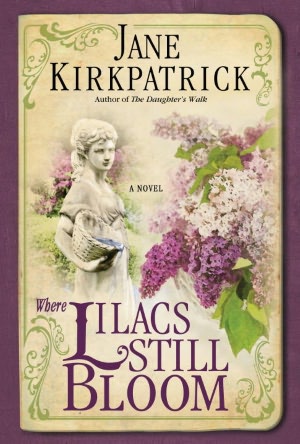 Description: (
from Amazon
)
German immigrant and farm wife Hulda Klager possesses only an eighth-grade education—and a burning desire to create something beautiful. What begins as a hobby to create an easy-peeling apple for her pies becomes Hulda's driving purpose: a time-consuming interest in plant hybridization that puts her at odds with family and community, as she challenges the early twentieth-century expectations for a simple housewife.

Through the years, seasonal floods continually threaten to erase her Woodland, Washington garden and a series of family tragedies cause even Hulda to question her focus. In a time of practicality, can one person's simple gifts of beauty make a difference?
Review:
I had never heard of Hulda Klager before I picked up
Where Lilacs Still Bloom
, but after reading it, I will never forget her. Hulda was a no excuses kind of woman, full of life and ahead of her time, and Jane Kirkpatrick makes her come to life with a garden of descriptive and colorful words on each page, (no matter if those colors are bright or monochromatic). I believe that no matter who you are and what you know, you can do anything you put your mind to - and that is what I love about Hulda, she yearns to create even when things come crashing down around her. Her story is not completely unique - many people who change the world are told no to begin with - but it's the way in which it is told that pulls readers in and makes Hulda real. Her story is truly inspiring and her passion for life is evident. The plot-line was slow to start, but as I moved through the book I was not bothered by the pace. I liked how Jane Kirkpatrick created characters around the life of this one-of-a-kind woman, adding to the level of emotion that the text maintained. Very touching and readable format-wise, with few grammatical errors. The first person versus third person dialogue was well-written and fit nicely with the novel's structure. The hybridizing of the flowers was interesting to me as well - but I am a bit of a biology geek. Overall, I enjoyed this heartwarming story, and hope to read more of Jane Kirkpatrick's novels in the future.
Rating: On the Run (4.5/5)
*** I received this book from the author (Blogging for Books) in exchange for and honest and unbiased review.