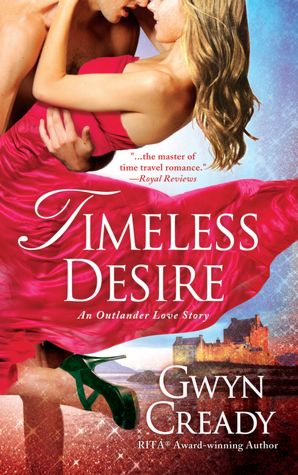 Description:
Recently widowed Panna Kennedy has anything but love on her mind; she is still grieving for her husband, the library she works at is suffering from massive budget cuts, and everyone insists that she get back into the dating pool. But when she opens a long- forgotten door and is transported back to 18th century England, her desires are awakened by the dashing, yet verbally abrasive, Captain Bridgewater; the man who's life-size statue just so happens to stand in the middle of her library.
Bridgewater, is currently under house-arrest for suspicion of treason against England, so when an out-of-place comely woman enters his study, he can't help but accuse her of spying. But after she proves her intentions by saving his life, he must find a way for both of them to escape the looming battle.
Can Panna and Bridgewater ignore their growing passions long enough to prove their loyalties and retain their lives? Will Panna risk losing her world to join his? Or will their love crumble just like Hadrian's Wall?
Review:
The time travel theme is a favorite of mine, (thus why I am always quoting episodes of
Doctor Who
,
Sliders
,
Quantum Leap
,
Fringe
,
Early Edition
,
Stargate
,
Star Trek
, etc...), so although I am not a complete fan of romance novels, I jumped at the opportunity to read
Timeless Desire
; and I am happy that I gave it the chance! I have not read any of Gwyn Cready's other novels, but after my experience with this one, I am definitely going to seek them out. I enjoyed the novel's starting pace, it gave the reader a little bit of character background before sending them through a crack in time. The characters, mainly Panna and Bridgewater, were well-developed, packed with personality, (and history), and very life-like. Being a pseudo-librarian myself, I do know what it feels like to work in a library environment - the books, the organizing, the funding, (or lack thereof), etc - and I believe that Gwyn Cready creates a very real heroine that readers empathize with, and enjoy reading about. Plot-wise, I was almost always aware of what was coming, but it did not take away from my reading experience; on the contrary, it made me pick up the reading pace so I could get to what was coming, (No spoilers!). The dialogue and attention to detail, especially when describing the differences between two time periods, was well-written, witty, and filled with "old-world" charm. I loved Panna's answers to some of Bridgewater's questions about the future, I definitely got a few laughs out of them, and the more steamy scenes were just as entertaining! The ending was great too! Recommended for those interested in an unexpectedly quirky romance that effortlessly spans time!
Rating: On the Run (4.5/5)
*** I received this book from the author (Astor + Blue Editions) in exchange for an honest and unbiased review.
About the Author:

Gwyn Cready is a RITA Award Winner (Best Paranormal Romance 2009) and the author of several beloved paranormal romances including Tumbling Through Time, Seducing Mr. Darcy, Flirting with Forever, Aching for Always and A Novel Seduction.

Highly regarded by fans and peers alike, Gwyn has been called, "the master of time travel romance," and her writing described as "sexy," "delightfully original" and "wickedly witty." Timeless Desire is her latest foray into the time travel genre and men in kilts. She still finds both eminently satisfying. Gwyn lives in Pittsburgh with her family.
Want to know more: