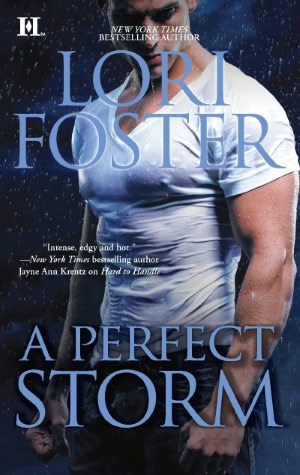 Description: (From Book)
He never saw her coming…

Spencer Lark already knows too many secrets about Arizona Storm, including the nightmare she survived and her resulting trust issues. But in order to expose a smuggling ring—and continue avenging his own tragic past—the bounty hunter reluctantly agrees to make Arizona a decoy. Yet nothing has equipped him for her hypnotic blend of fragility and bravery, or for the protective instincts she stirs in him.
Arizona wants to reclaim her life, which means acting as bait to lure the enemy into a trap. Sure it's dangerous, especially with a partner as distractingly appealing as Spencer. But as their plan—and their chemistry—shifts into high gear, Arizona may discover there's an even greater risk in surrendering her heart to a hero….
Review:
I have not read any other books by Lori Foster, so this was my first taste of The Men Who Walk the Edge of Honor series, and I must admit, I quite enjoyed it! There are four books that precede A Perfect Storm: The Guy Next Door, When You Dare, Trace of Fever, and Savor the Danger, but I found the fifth in the series to be more of a stand-alone volume.
(Not that reading the rest would hurt!)
This book packs a lot of punch - fast-paced action, page-turning suspense, a heated romance, and a touch of wit; not to mention a cast of complex characters determined to take down a human trafficking ring. I was captivated by the plot-line from page one! What an intense story - for both the character backgrounds, as well as the case(s) being investigated. Human trafficking is a difficult topic to discuss, and Lori Foster makes an impression on her readers. I was taken aback by the detail / shock-factor found throughout the book; it made the case and the characters seem more real to me. I loved strong-willed and protective Spencer, he was by far my favorite character - I could definitely read another book about him. On the other hand, there was Arizona - her history certainly made her character interesting, but I was distracted by her immature and petty actions. I understand that she is young and "tortured" to begin with, however, I feel like her attitude takes away from the book. It is hard to see how Spencer and Arizona would actually work together (as partners or romantically) because they seem so mismatched age and personality wise. Separate, they are tolerable - even enjoyable - but together they are unrealistic for me. I really liked the ending, especially the parts I didn't expect - (no spoilers!) - my only gripe is that this is the final book in the series. I will have to read the previous books ASAP to learn more about the other characters, particularly Chris, Jackson, Trace and Dare, who I would love to know more about. Overall, I rather enjoyed the story, minus the few details mentioned above, and will definitely read more by Lori Foster. Recommended for romance enthusiasts who like a series with some attitude - and some hot men in uniform!
Rating: Bounty's Out (3.5/5)
* I received this book from the author (Media Muscle
) in exchange for an honest and unbiased review.



A PERFECT STORM

HQN Books; April 2012

448 pages; $7.99 U.S./$9.99 CAN. ISBN-13: 978-0-373-77656-6