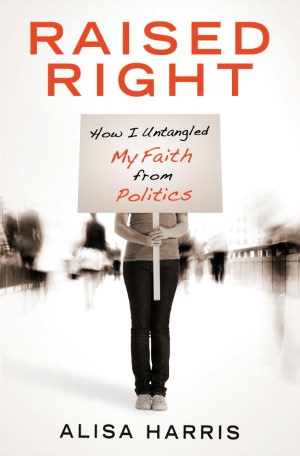 Description:
Alisa Harris was brought up to be a politically conservative-Republican Christian, her views of faith and politics tightly linked. She picketed abortion clinics and protested the war in Iraq because of her belief that the USA had strayed from the teachings of God, and the only way to redeem itself would be to put the right people and laws into power. Her parents, church, religious community, and education (home school through college) molded her into the person [they] wanted her to be, but her interactions with the outside world pushed her to question certain aspects of her faith-driven politics. Seeing the world from different perspectives allowed her to stay true to her core belief system, but separate her faith from her political background. Can faith and politics mix? Or are they better off on opposite sides of debate? Alisa tries to determine her real feelings about the past and future of her beliefs.
Review:
I was raised 'middle' - middle child and center of the christian/political spectrum - not 'right', nor 'left'; but I understand where Alisa Harris is coming from. I am well aware that many people/organizations try to indoctrinate their children with whatever beliefs they hold in order to plant the seeds for the next generation of believers in the cause. I have many friends and family members that think in that exact way:
My parents are Republican/ Democrat, so I must vote Republican/ Democrat, (even if I don't believe in it...),
or
My family doesn't believe in gay marriage or abortion, so I guess I should oppose it too...
Isn't growing up about discovering our own stances, and finding out what we (the individual) truly believe in? I do not believe in passing down political convictions (or discriminations). That is why I enjoyed reading about Alisa's journey, because she started viewing politics and religion from different angles and making her own judgments. Do I think she completely "untangled" herself from the faith/politics "knot" her childhood tied? Not totally, but free-thought is a start. I found her memoir well-written, though disjointed at times; I expected the normal progression from childhood through adult, but her experiences were frequently mixed, switching from kid to college student. Her recall of the past was told in a story-like fashion, and I appreciated Alisa's attitude throughout. Recommended to today's young Christians (17-35) who are interested in the faith versus politics debate.
Rating: Bounty's Out (3.5/5)
* I received this book from the author (Blogging For Books - WaterBrook Press) in exchange for an honest and unbiased review.