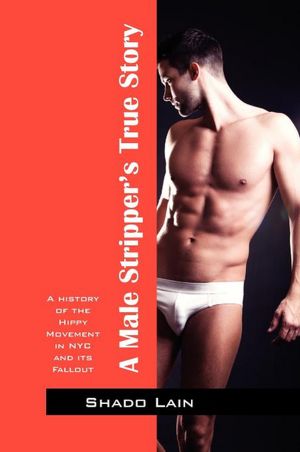 A Male Stripper's True Story is the memoir of Shado Lain – the first true artist of the New York City male stripping scene in the 1960's through 1980's.
I do not really have much to say about this seventy-one page mini-memoir. I thought that it would be an interesting topic because I have always wondered why people get into the "adult entertainment" business. What draws so many people into these scantily-clad careers? Don't get me wrong, if that is what a person is passionate about, by all means they should do it – no judgment from me. But this book really did not answer any of my questions, it was a very short, scattered and unedited glimpse into New York's male stripping scene. I understand that Shado Lain wanted to get his story out there, but I did not like his approach. Many of the sentences were run-ons, held misspelled words and were ill-punctuated; still understandable, but thoroughly annoying. Shado's past and present were more jumbled than fluid, and I do not think he needed to add all the detail about his middle and high school sex partners. The 1960's through the 1980's was a wild time in our country's history, and I find the hippie movement fascinating, but I did not enjoy reading about the author's escapades. If the book was longer, proofread and more structured, I would have given a better rating.
*** I received this book from the author (Bostick Communications) in exchange for an honest and unbiased review.