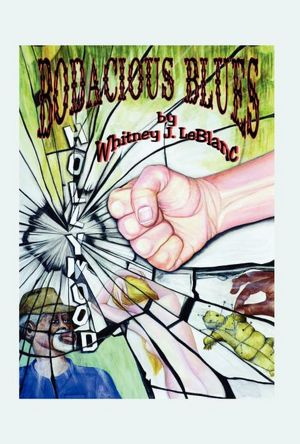 Description: (from GoodReads)
Bodacious Blues completes the saga-trilogy of a Creole family from Estilette Louisiana. From the depression on, three generations of this family have struggled in the midst of blues music, religious conflicts, lust, lynching, murder, voodoo, and racism. Now comes the grandchildren of Martha Broussard, who carve out paths through the changing world, and their stories emerge as they experience the rites of passage into adulthood. Ann Martel develops into the doctor that her grandfather hoped her brother would become. Disappointed in love, she finds contentment and happiness with an older woman-partner.
Meanwhile, her brother, Les Martel, defies all who challenge the man he desires to be. Believing in an eye for an eye, he kicks the ass of anyone who stands in his way. He protests racial intimidation in Estilette, takes on an abusive lover in Chicago, fights a Paul Bunyan giant in the backwoods of Bemidji, kicks the ass of a contemptible womanizer in Nashville, and gives comeuppance to a backstabber in Hollywood. Living life on his own terms, he soon discovers that Hollywood is not the place he thought it would be- the values were not his values- the truth was not his truth- trust was deception- honesty was weakness and loyalty was an unknown word.
In Bodacious Blues, Les Martel brings the saga of this proud family, to a final conclusion in the 1980's. In a milieu of religious controversy, sexual cross-identification, and the racial exploitations of Hollywood, he discovers that coming of age as a man was not as easy as he thought.
Review:

I rushed to the library to check-out books one and two of the Fergerson/ Broussard family saga - Blues in the Wind and Shadows of the Blues - as soon as I received Bodacious Blues. I was completely ready to delve into Whitney J. LeBlanc's Creole family trilogy! Unfortunately, I could not find a library near me with the books, so I was faced with a dilemma - read book three before the others? Would not knowing the character's pasts leave me completely out-of-the-loop? Well, after mulling it over for a bit, I finally decided to go for it, and 350 pages later, I am glad that I did!
The first thing I noticed about this book was its intense cover-art - alluring women, voodoo dolls, the famous Hollywood sign, and a fist violently crushing and fracturing the images into sharp segments, (excellent foreshadowing of what is to come). The second thing I noticed was the short synopsis of the two previous novels, as well as a short description of the family lineage. Many thanks to the author, these six pages let me know a semblance of what I missed. Once I got into the actual story, I was surprised to realize how much I enjoyed getting to know the characters, especially Les, Caryn, Lightfoot, Naomi, Ann, Rosa, and Lala. I may not have read previous books, but Whitney J. LeBlanc has a way of infusing characters with infectious personalities - no matter how minor a character may be. Every character I encountered was well-developed, realistic, and influential; I thought about these characters and their stories well after I completed the book, which I stayed up till 2am to finish. The dialect was also well-written and authentic, leaving the reader immersed in the world of whatever character was in focus. I liked the idea of more than one plot since there were so many vibrant characters to keep track of. I liked Les and Caryn's story the best, but Ann's was a close second. Bodacious Blues could definitely be a standalone volume, its characters and rich story-lines are strong and well-constructed. I will be reading the previous books as soon as I can find copies! Recommended for readers who like a great family-saga and characters they will never forget.
Rating: On the Run (4/5)
*** I received this book from the author (Bostick Communications) in exchange for an honest and unbiased review.
Book Trailer
Whitney J. LeBlanc grew up in louisiana, then spent more than twenty-five years in theatre and television in Hollywood as a writer, producer and director. He has written scripts for stage, screen and television. His first novel of historical fiction is Blues in the Wind. Shadows of the Blues is the second of a planned trilogy about a Creole family. The third novel Bodacious Blues was published in 2011. LeBlanc lives in the Napa valley in California with his physician wife. Between writing novels, he creates stained glass windows.