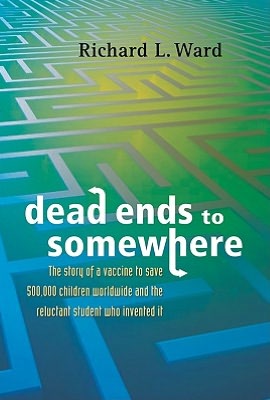 Dead Ends to Somewhere is the memoir of Richard L. Ward, the unlikely scientist who invented the vaccine for rotavirus, a virus causing stomach and intestinal inflammation in ~500,000 children worldwide. Richard was the youngest of nine children, but the competitive nature of his siblings never rubbed off on him. He did poorly in school, and his reading and writing skills were mediocre. The nuns at his Catholic school had almost given up hope, until he suffered the ultimate humiliation – a nun read his paper to the class as an example of "what not to do", and he swore he'd never allow it to happen again. This event triggered his competitiveness and confidence, allowing him to succeed in school and college, however, Richard went through several college and career possibilities before he found his passions – biochemistry and virology. He intended to study a completely different branch of viruses,

retroviruses

, but a chance encounter with rotavirus set him on the path to discovery, and ultimately changed the future of medicine.
I find it amazing that a child who nearly failed out of grammar school grew up to develop a vaccine against rotavirus, which in turn has saved millions of children worldwide. Richard L. Ward's memoir is a true example of overcoming the obstacles humans are presented with. It also strengthens the belief that humans learn from their mistakes and have the ability to change their futures. I found his writing style easy-to-read, down-to-earth, honest, and full of self-condemning wit. He represents himself as flawed, clearly just as human as the rest of us, and he keeps his ego in check. One of my biggest pet peeves when it comes to self-written memoirs is when the authors act full-of-themselves. A little self-admiration is fine (as in this case), but some authors 'go off the deep end'.
I am a microbiologist, so I rather enjoy the technical jargon that more biological reads have to offer, but for this book, I found that readers of most backgrounds would be fine without a dictionary. The author's descriptions are detailed, but not scientifically specialized like those found in most scientific papers; he has a knack for explaining his methods in layman's terms. The whole book is enjoyable and well-written – there were a few typos, but nothing too serious. This book belongs in high school and college libraries/curricula! It is a must read for science students and I highly recommend it. I, for one, am grateful for Richard's scientific contributions to society; because of his research, children get a chance to live.
Rating: On the Run (4.5/5)
*** I received this book from the author (Bostick Communications) in exchange for an honest and unbiased review.