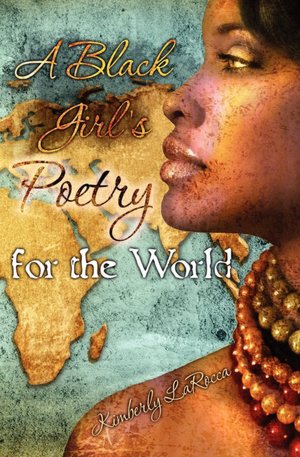 A Black Girl's Poetry for the World is a collection of 123 poems about life, love and everything in between, written by Kimberly LaRocca – mother, poet, author and songwriter.
I love poetry, whether it comes as rhyming stanzas or as simple verse, so when I read about A Black Girl's Poetry for the World by Kimberly LaRocca, I knew what I wanted to read next. First-off, the cover is gorgeous, I love the colors, the font and the side profile – they allow the outside of the book to encapsulate the depth and richness contained within Kimberly's poetry. The poems move in an almost autobiographical fashion, each one packed with emotion. Savoring each poem, I felt love, bitterness, fear, lust, indecision, pain, defeat, acceptance, anger, faith and a host of other emotions that all readers can relate to. I have not found a poem I do not enjoy, but my favorites are: A Call to Arms, Why Don't You See Me, Dance With Me Tonight, Searching, A Poet's Song, True Friends, Of All Beings, and Too Soon. The poems may seem simple, but they speak volumes about the unique complexities of the human condition. I will definitely be reading these poems again, over and over. Highly recommended to all readers, poets or otherwise.
Rating: On the Run (4.5/5)
*** I received this book from the author in exchange for an honest and unbiased review.