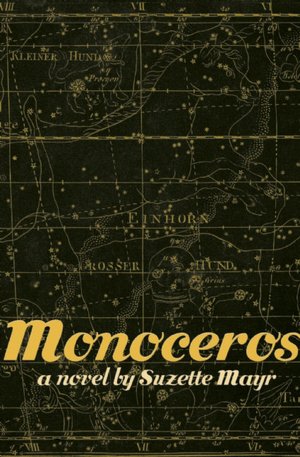 Description:
A teen's suicide triggers a community to reflect on its actions. Students, faculty, and family members "tell" their own side of the story, while trying to make sense of a tragedy that could have been avoided.
Review:
Monoceros
is definitely one of the most interesting books I have read in 2012. It is an unexpected and unique take on the aftermath of a homosexual teen's suicide, as told by the students, staff, and family he left behind. At first, I couldn't get past the sentence and grammatical structure of the text, it was choppy and strangely formatted. I did not enjoy the repetitiveness, nor did I favor the total lack of quotation marks. The dashes used made it difficult to determine which individuals were speaking during conversations. I did however appreciate the depth and personalities of the colorful cast of characters; especially Max, Crepe Suzette, Faraday, and Walter. The story-line was well-constructed, honest, and full of emotion. Even though each of the characters only had a small section written in their own perspective, I felt that the mix of thoughts and conversations kept the reader intrigued and sympathetic. I eventually got over most of the punctuation problems, but I still found them annoying. The only other problem I had was with the ending, I found it confusing and unnecessary. The writing itself was intricate, but I couldn't pinpoint the proposed audience. Overall, a strange, yet unique read; still unsure about the unicorn aspect... (no spoilers).
Rating: Bounty's Out (3/5)
* I received this book from the author in exchange for an honest and unbiased review.