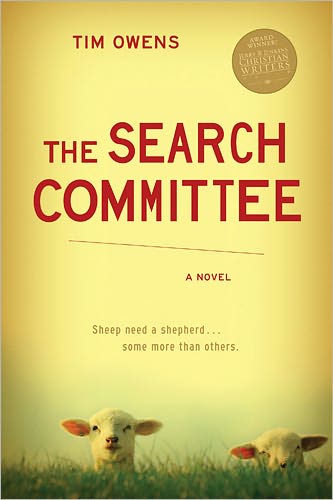 Sheep need a shepherd... some more than others.
Description:
When a Protestant church finds itself without a pastor, the church forms a search committee to represent the wants and needs of

its

congregation. In this case, when a Presbyterian preacher is called to

Atlanta, the church's search committee, comprised of Travis, Dot, Susie, Bill, Joyce, Frankie, and Matt, pile into a white '78 model Ford Econoline and start searching for candidates. Just because they have been elected to agree on a new pastor, doesn't mean that they agree on anything else, so tension begins to rise. Can seven people sent on a religious mission put aside their backgrounds and secrets long enough to do what's best for the church? Or will their inner conflicts be revealed and make for a "bumpy ride"?
Review:
The Search Committee
by Tim Owens is less about the actual search, and more about the committee members themselves. Seven wildly different personalities stuck in a van in search of a preacher - sounds like a great idea, right?... I loved the premise of this book right away, I have never thought about how a church gets a new pastor, especially in today's "electronic" society - (I wonder if you can Google a pastor too?). Anyway, the story-line is easy to follow and exceptionally well-written. I started to enjoy the complexity of the characters and their interactions immediately. I appreciated the balance of seriousness and humor, as well as the level of emotion - I was never bored. The only drawback was the choppiness of some of the viewpoint changes, but it didn't take anything away from the overall readability. Being a church-goer myself, I couldn't help but laughing since some of the characters reminded me of friends and neighbors in my own congregation. I have been on "road trips" before, so I know what it's like to be stuck in a van with people you don't necessarily agree with; although, those events do stand out in my mind because of the unexpected moments we all shared. I will definitely be recommending this book to my congregation! Great for book clubs; I found the Discussion Questions thought provoking as well!
Rating: Bounty's Out (3.5/5)
* I received this book from the author (Tyndale Blog Network) in exchange for an honest and unbiased review.